SETTING UP A TV STUDIO ON A BUDGET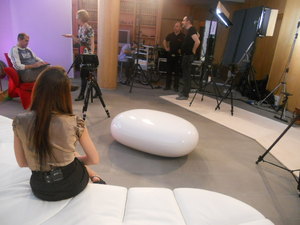 Working for TV it isn't an easy task as It might seem at first sight if you are used to work in the movies industries, it simply won't be like taking a remote and clicking on the power button.
As usual it requires hard work to make things look neat and polished.
Compared to filming there is a clear advantage though: once you have set up your lighting equipment and your cameras you are good to go for a long time. In filming you have to move lighting around as the scene changes so it's kind of an ever changing situation.
Lady Channel on Sky TV channel 135 is dedicated to soap operas. Lots of people watch soaps and love to know more about it. For this reason the owners decided to make a pilot on a strict budget to see if we would be able to make up a good show.
The studio has been set on privately owned location at Telecittà' Studios just out of Turin. It did not have all the standard studio facilities, so lighting had to be taken care of from scratch and we could not have railings or other facilities available.. at the moment. You can see below some pictures of the actual location transformed into a studio: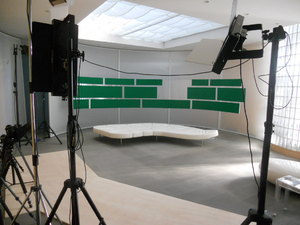 Lighting was mainly powered by a set of super classics, 4x 800w IANIRO (black re-housed version of my old but good red ones) and  LUPO LIGHTS. These are fluorescent lights particularly recommended for TV Studios due to very important advantages they offer:
– diffused light
– barn doors that intensify the light
– cool light
– low energy consumption
– lamps long life span (8000 to 10000 hours)
The IANIRO were aiming straight at the subject, instead the LUPO were mainly bouncing off the walls to produce a even fill light.
Unfortunately due to the fact there no lighting could be properly set on the ceiling there were some shadows on the field, not really coming in the shots but we had to be careful. Everything was monitored and closely controlled via a light mixer console.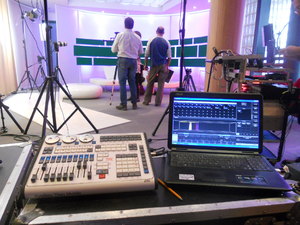 The most important things was to pay attention to the green screen patches we had on the back, make sure they were lighten very evenly and that they were casting no reflections on the white sofa and on the subject.. that would have been nothing short than a disaster.
It's crucial to carefully double check for green screen reflections and the proof can only be to grab a frame and go into FCP or AFTER EFFECTS and use your favorite tools.
The frame grab below is an example of some problems you might encounter along the way
You can see two problems running alongside, one being the green spill and the other being the jaggies. The green spill can easily be treated with a suppressor plug in, there are many available on the market. As far as the jaggies are concerned there can be a lots of reasons involved and you have to cross out one by one. Let me try to put down a shortlist here,
1. footage not converted to ProRes 4:2:2 or another uncompressed format and then imported
2. plain and simple aliasing
3. improper lighting
It is always preferable to light the green screen independently from the subject so that your key lighting has a clean, smooth luminance with no shadows or blow-outs.. a bit like if you were under the sun (not an noon though!)
Although I would have opted for three GH2, the director used instead three 5DmkII. He felt that the Canon had the dynamic range he was looking for and being the space quite tight he could better have the depth of field he was looking for in some shots.
Resolution wise the GH2 was a clear winner with the hack but it was not my call. Actually some of those nasty jaggies could have been caused by the lower video resolution of the Canon (compared to the hacked GH2) although the internal codec is always H264 and that's quite lousy in terms of color space.
Bear in mind that the 5DmkII had no magic lantern unified codec on board, they were kind of straight out of the box. Nor they had a Mosaic Engineering VAF2 device implemented, which it would have boosted the resolution and avoided some surprises in terms on moire and aliasing.
Lenses chosen were the Canons EF, a 50mm on the teleprompter, a 16-35mm zoom and a 85mm . We had a 70-200mm Zoom on board as well, but that was not much of use though.
Apart from my trusty combo of MANFROTTO 701HDV head and SLIK 700DX PRO legs I was able to use my MARSHALL 70XP monitor to work out the shots, although on the 5Dmll the resolution drops badly once connected to the HDMI and hit the record button. Exposure was measured with a Sekonic cine meter and counter tested by the false colors function of the Marshall.
The telemprompter was an Ipad version and had the 50mm Canon lens along with it. Luckily enough we were not live while on air, so problems arising could be sorted over time and there were loads!
I just imagine how hard it can be to do live TV shows, everything has to be spot on, from the Presenter's performances to the work of the crew.