The last ISCORAMA anamorphic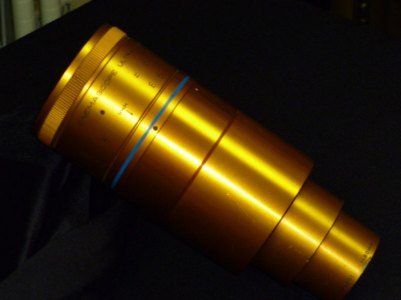 I damn well know this is not an Iscorama 36, 42 or 54.
Iscorama Anamorphics are very well know among  anamorphic lovers for a variety of reasons.Above all they are tack sharp. Secondly with anamorphic adapters you have to  focus both the taking lens and the adapter, which it comes as no less than a pain in the neck – it requires time and patience and it might not always lead to the best results as the lenses are not working "in sync".
The true beauty of the very pricy Iscoramas (getting sold for $3000 on Ebay and appearing in the listing once in a blue moon) is that you focus to infinity on the taking lens and then rack focus with the adapter .. like you would do with regular aspherical lens. Tour life will be a lot easier as a shooter. Next step from the Iscoramas are the Vantage Hawks ($30,000) or the Panavisions.. which you might only rent unless you're rolling in money.
So why is this the "last Iscorama" or the budget Iscorama. Well you still have to double focus but bloody hell this is sharp, you can go as low as 35mm on a cropped sensor like the M43 and get away with minimal vignetting.. for peanuts!
Btw, there is very little barrel distortion even when using a taking lens as wide as 35mm on a GH2 (17mm horizontal FOV) and this is another plus you do not get on a KOWA 16H/8Z.
I managed to get an extremely good deal on this lens, they are normally going for $600 but I guess most buyers were unaware of the opportunity in my case.
In fact this is a 65mm projection lens and it gets unnoticed.
As you can see from the pic below you can take beautiful footage with it, it almost looks like Christopher Nolans' films.. way different from the vintage feel from the Kowas. It was shot on a GH2 with Standard profile set at -2 -2 -2 -1.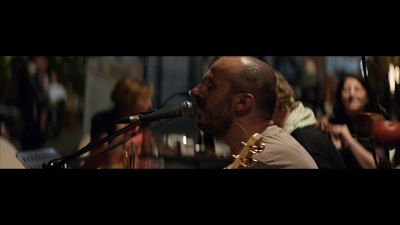 This projection lens is made of two main parts. In order to have it working as a proper anamorphic attachment you have to disassemble it if it comes as one unit. Mine did.
Straight away there does not seem any chance of doing it but looking more carefully you can see there's a tiny separation line half way through. You do not see any screw popping out for a removing part though. Actually there aren't. The bottom part is just screwed in, so rotate it anti-clockwise. Mine required a lot of force for it to come out, probably it was not a recent unit and over time the thread got "cemented" with a little bit of crap from the outside environment! But at last … here it comes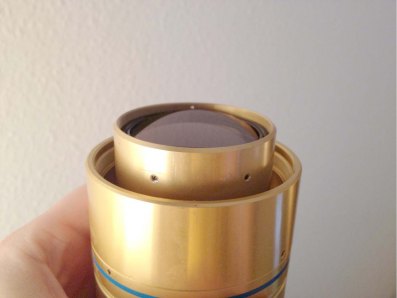 The item you want to go for is a ISCO-OPTIC GERMANY CINEMASCOPE ULTRA S f=65mm – 2.56 inch, it's got a blue star logo. It might come in different colors than the golden one you see in the picture, I have previously seen some light blue and red units.  They are all made by Schneider.
On Ebay you can find some other focal lengths and the whole thing gets a bit confusing. There are plenty of these and they come in different flavors. So.. why this one? I am unsure about the others but the main reason this one works all right is that it's not too heavy (as much as a Kowa 16H/8Z), the bottom lens is wide enough to go all the way down to a 17mm FOV and you can clamp it with the Vid-Atlantic clamp (www.vid-atlantic.com), which I use and like.. the best bang for the buck.
Actually, if you are unsure what to get these guys are nice and they have the Blue Stars in stock.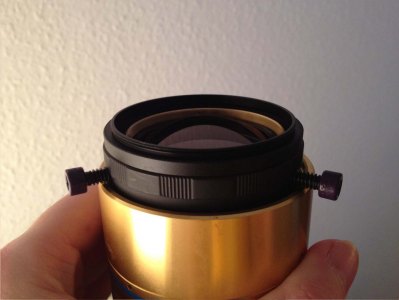 The are a couple of downsides with this lens, if they are to you anyway. The first is that it has not got a filter threading but I do not mind this as I normally film with a matte box and it comes with two 4×4 filter slots.
The second issue is it's not flaring like anamorphics do. Well Iscoramas do for sure, Hawks as well and the Kowas. It's not down to the taking lens as I coupled it with some non SSC Canon FDs (35mm, 50mm) but it's definitely related to the coating of the lens. This can be a major turn down for some, not much for me anyway.
I find that you can always add them in post and to the amount desired but you cannot remove them if present in the original footage.
Sometimes they can be distracting and they do not sure every genre, sci-fi indeed but I cannot see a narrative shot with big flares in it …or at least it's not my cup of tea.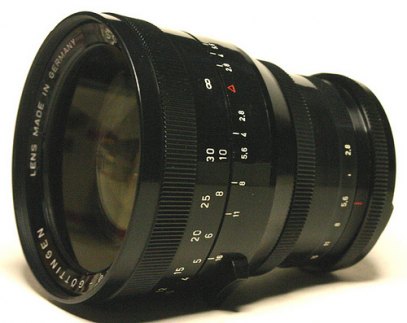 Pictured above is the very sought after Iscorama 36. Get one if you have the cash or buy a Blue Star if you are on a budget or you want to experiment with the beauty of anamorphic DSLR film-making. You can get a very cinematic image out of them, it helps taming that digital sensor edge. Mostly I find I have not to do any grading at all.