Tag Archives:
gh2 hack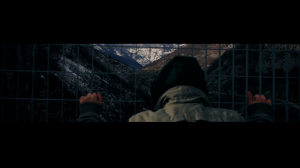 Soon after doing the video entitled "L' AQUILA", the singer was very pleased with the result and he wanted a new video for the new song in the pipeline.
A totally different looking video. More filmic looking. More dramatic. More story telling. I though this was a great chance to go anamorphic, after all it's the most cinematic thing I know.
What I usually do is to listen to the song many times and get my mind around the feelings I perceive. It will not necessarily link to the song, its words, its theme.. it's actually more to do with the gut feeling I get out it.
It might have more to  do with the rhythm or with a particular instrument or the general vibe.
I decided to shoot knifed for two reasons.
First of all I wanted to see how I could cope in "extreme" conditions, by that meaning I was completely alone and 100% exteriors. Different times of the day. Freezing cold.
Secondly in this part of Italy it does not rain that often and never you mind about snow. It was quite peculiar and I was eager to see how the woods would have looked like. Damn beautiful.
There is a third reason. I wanted to make up a simple story without too much hassle, no lines, no storyboarding, no actors, no audio recording.. no nothing. Straight and simple, just planned on the fly.
I shot it over two days because the first day I was literally freezing just by holding the metal legs of my tripod. Could not think straight so I had to come back one more time, also overnight I figured out I would have to make few more shots to have all the visual imagery I was after.