Ultimate still lenses choices for DSLR FILM-MAKERS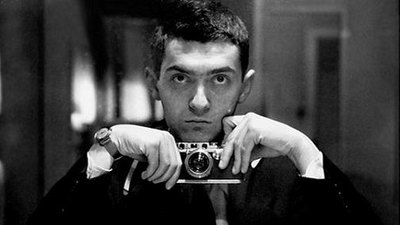 Sorry for not writing any sooner, been busy, lots happening in my life! I will update you folks with some major news pretty soon, hopefully. In any case I am always experimenting, testing, story boarding, creating, learning and sharing experiences. Cinematography is a never-ending story, a master art and you will never master it all. So intriguing.
I believe that lenses are important in any production, but definitely lighting has the edge. It sets a mood, it creates your cinematography, better still it's the eternal fight between the shadows and the light that rules the world out…. as the Chinese would say, by drawing a Tao logo. So lenses are no more than boys' toys? No, they are not. They are meaningful, but do not get too crazy about them, try to focus more on directing or DP-ing… lenses are just tools.
However I am here to give you some tips out of my rather long experience in lenses, I have tested and mounted pretty much any major brand out there. It could save you some money, time and hassle over E-b**. It's my experience, it might not be yours too, it's mostly a free world and I like to keep it this way.
A Facebook friend, fellow Director Pietro Marcello (http://www.facebook.com/pietro.marcello), contacted me to share my views on some lenses. He's an independent film-maker, like most of us out there and he's produced a full feature film… that got broadcasted as well. I hope to get a chance to have him here, talking about his 2009 feature and give us some insights about it.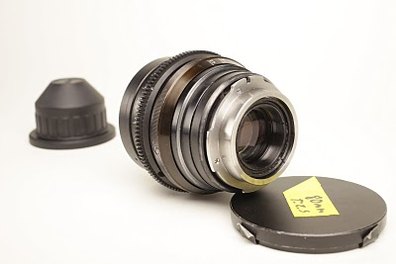 Anyways, he was inquiring about Lomos as he's read my previous post, and he was after some vintage look for his next masterpiece. I told him what my experience was, and it simply is that although I loved them to bits, you have to dig lots to get a good one. It's not  strictly realated to Lomos, it's Russian lenses dilemma sort of thing. They were working for the state, dead long hours, poorly paid… possibly never made their own lenses designs and stole the main chunk from the Germans, I mean… what do you really expect? Andrei Tarkovsky used them in Solaris and so other Russian directors did in their cinematography, but do not think for an instant that they bought them new in a shop. I am most certain they hand picked those from the factory and sat on them since that very day.
However since Lomos were produced in dodgy conditions, although the glass would have been top-notch as the state had access to the best earth elements in the country, do buy from reputable sellers… private or public. There might be some gems around, but make sure those lenses have been serviced first. For instance Matthew Duclos does not service them anymore, but Bernie O' Doherty still does.
If you go the Lomo way, and in particular the spherical ones, be aware that mostly they will be unusable wide open. To date it's unclear to me whether this is true for all Lomo line, but collecting experiences from other users it so appears. I used them on a cropped sensor and at T2.3 the corners were a total blur. Nice effects? Perhaps, but I rather do that in post! So my personal recommendation to you is: always asks for pics taken wide open with the lens, pay by credit and make a claim to your card issuer if you do not get refunded.
Also, avoid the wide lenses in the Lomo range (there are some), they all suffer from bad CA as well. Wide angles and zooms have been improving quite a lot with CAD aided design and bar Zeiss, any vintage wide-angle and zoom would be a bet gone bad.
The Lomo anamorphics might be a different matter. Because they are pretty much the only financially viable alternative to the Vantage Hawks, or the Panavision Primo C&G, chances are they have been serviced or overhauled. Always buy with care anyway.  You can find both anamorphic zooms and primes, either the squared front ones (old & bulky) or the rounded ones (lighter and prettier). Optically they seem to differ a bit. Some of these units have been produced by CKBK, a remarkable special optical unit.
As I said to Pietro, he would score far better if he bought a set of vintage Cooke Speed Panchros, SII or SIII. The thing with the Cooke is that they are an establishment in the movie industry, and you are buying reliability. The SII and the SIII would have better coating than the vintage, pre-war ones; even if different series they will still inter-cut… and any SII or SIII lens should be a match to the rest of the set. Not true for Lomos. There was a mess with the optical designs and many versions (OKC xx-xx-xx) are circulating right now, besides and the year of production has influence on the coating applied to them. A true adventure, thus a cheaper one as the Panchros would go $1000 a blow at least.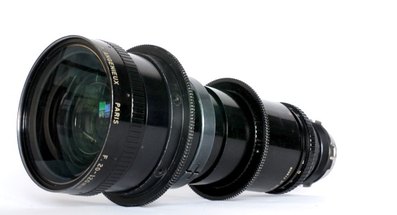 Angenieux zooms are widely available as well, I have direct experience with some Angie still lenses in C-mount, and I was not particularly impressed. There are highly regarded primes in Leica mount as well; I haven't tried them so I cannot comment. The cine zooms cover a very useful range, like the 20-120 T2.9 and the 25-250 T3.9, 35mm spherical, but before purchasing ask for samples or even better test them before hand. Most units seem to be crusty and abused, and zooms are quite delicate due to the many elements moving inside.
You can find some interesting zooms with Nikon and Leica mounts as well, the interesting ones are the  28-70 f2.8, the 45-90 f3.5 and the 70-210 f3.5.
They seem rather nice, but they will set you back $1000 each…  I believe there are cheaper alternatives, not sure whether better performers or not. Minolta MDs are very interesting and you can buy them for peanuts. I own a 35-70 f3.5 and a 70-210 f4, I use them in place of a Director's viewfinder. This two zooms are great value, they are great carry around lenses (a 28-70 would have been better but hey, you cannot complain all the time) and they have superb macro switches. See on Facebook some photos I took with them wide open, untouched stills. They are sharp enough for a zoom, good enough in the corners on a cropped sensor, and contrast is constant throughout the range. Mostly importantly they are para focal!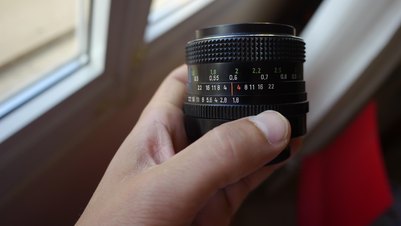 Focus throw is always an issue when it comes to still lenses. Having a tack sharp piece of glass and a short focus throw … it's not ideal. Zeiss Jena, Leica R and Nikon AI (not AI-s) have the longest. Mechanically they are all nice, Leica R on the top. I would say that Nikon AI are as sharp as Leica Summicrons, perhaps not as good wide open in terms of contrast and sharpness… but for a fraction of the price Nikkors are a worthy choice. If I was to cherry pick Nikon lenses on a budget I would go for the 28mm f2.8, the 50mm f1.8, the 105mm f2.5.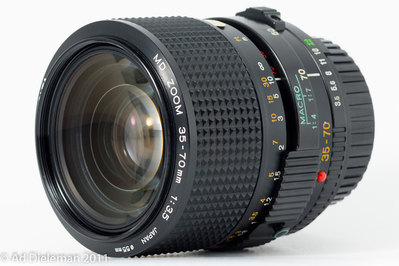 If you are totally skinned, take the Minolta MD route and complement their zooms with some primes. Minolta and Leitz had a very strong partnership in designing their wide angles, in particular the 24mm and the 28mm. Get the 28mm MD f2, the 50mm MC f1.4 and the 85mm f2 MC or MD. They might not be the bokeh king, but these are fast lenses for small prices. I would prefer them over the Canon FDs, because their color rendition is not as funky, actually it's pretty neutral to be honest.
Overall I tried many other lenses, like the EBC Fujinons, Olympus OMs, tons of C-mounts, Zeiss C/Y, Rollei, Mirs and I must have forgotten other I tested and mounted over the years. With the advent of the Blackmagic Cinema Camera, many are turning their heads to this new top performer. Its sensor is somewhat an odd format, in between S16 and m43. If wished it to be a full S16, as there would have been a lot of Arri Standard kick-ass motion picture lenses available on the second hand market. Battle tested lenses, like Red would say, potential excellent choices for a S16 BMCC. But it is not, the bottom line is you have to make your own choices and the above might be of help. The thing is that if a lens has been designed for a format, that is its original design, and it will perform as it has been engineered for. With crop sensors, it's a hit and miss process, although you end up cropping the traditionally worst part of a lens… alias the corners (loss of lpm resolution, contrast, CA, etc). Eternal battle.
It might be a pricy choice, but the Ikonoscope A-cam Dll isworth a look, it's CCD based so it has a global shutter, it outputs raw, its specs are as good as the BMCC and it's been made by film-makers for film-makers.