My Rode Rockumentary Entry, part 1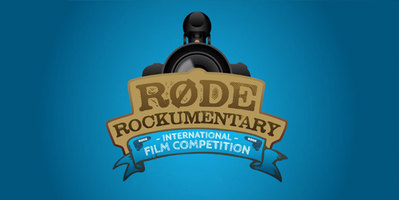 The good news is that this video got the 3rd prize in this great competition engaged by respected worldwide manufacturer Rode.
I guess it cannot be called "news" anymore as it was awarded a month ago, but I have been shooting something else,  I had little time to write this behind the scenes (BTS) post.
I saw this opportunity on Philip Bloom's website  http://www.philipbloom.net just a month before the actual competition deadline and the main idea behind it came to me pretty quickly, while I was driving along the motorway.
I tried very hard to have other people on board to help out, but for whatever reason they had, no one was able to make it.
In end I was on my own expect some little extra help I had in the final scene of the short movie, in which a baby is featured.
I thought I should have dropped it, at first. Too much to shoot, too little time and a one man band, tough I felt the idea was great, I really wanted to shoot this and what the hell I already shot something all by myself.
So I took the plunge, and went for it.
The funny thing about, it is that in the end I thought it was better being totally alone. I had the freedom to drive around with the twisted red cable in my trunk and whatever I felt was deserving a shot, I gave it at go.  Although I made a storyboard for the first and last part of the movie, I intentionally left the central part free from constrictions. I just needed to see something worth of my attention and shoot it there and then, potentially it might have been anywhere.
Of course I ended up chucking away tons of footage, but it's fine as I kept what to me was the cream of the crop.
Part of the storyboard looked like this: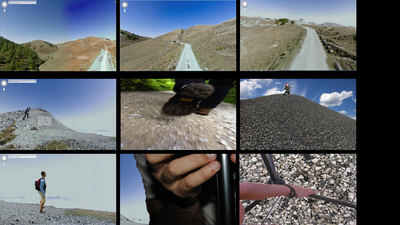 How do I make storyboards? Well, the last time I made one I ended up producing something like 240 pictures, all hand-made. Although to some extent I enjoyed it, it was also too time consuming, so I thought I had to improve on that side as well. The method I use work for me, and Ii is not meant to work for anybody else, unless you like it. I tend to go online and find as many photos I can find for the shot I have in mind and then, if I need an actor in it, I do a quick composition using an extra picture. I might shoot on location or I might shoot somebody and place it in location. It depends on how much time I can get and if I can do a proper pre-production.
Lenses. Among all the lenses I have I decided to shoot with the cheapest ones and they are the Canon FDs 17mm f4.0, 35mm f2.8 and 50mm f1.8. Very ordinary lenses, the 35mm and the 50mm are not even coated. I had another Canon FD lens with me and that's a good notch on the top of the other, the 135mm f2.8 SSC. These lenses were my taking lens when using the anamorphic adapters. Very simple design, but I went in favor of those because they feel vintage and warm, have a nervous out of focus are and are have and incurable tendency to the magenta tone.
I needed the lens to be warm to give a better idea of how caring this father was, I needed a nervous shallow depth of field because the cable had to move very nervously and the magenta tone enhanced the being of the cable….. simple red color.
The only lighting available was natural. That is part of the deal of running solo, I guess. Of course you could bring along some stands, bounces, negative fills, etc. but dealing with limited time, you're asking for troubles. In Fact the whole movie was shot throughout different days at roughly at the same time of the day, from 16:30pm to 19:00pm. With proper ND filters you can shoot at any time of the day and still manage to get a shallow depth of field, but the central hours cast harsher shadows on people and stuff….. and that simply wasn't the look I was going for.
One piece of advise while you're shooting indoors and you're watching your field monitor. Make yourself a favor, bring along a nice black curtain and put it on your top. Be ready to sweat like there's no tomorrow, but after countless trials and error, to date I cannot find a shading device as effective as a black curtain. I guess you're like me, you hate to re-shoot, so let's get it right first off.
The final part was indoors so the location was properly set to get the right atmosphere. We used both artificial lighting and natural lighting. What we did first was to diffuse the light coming off the ceiling through a Velux windows. The light coming in was just beautiful, but too powerful, so we used frost filters to diffuse it all over…. to make it act like a banker!
Then we had one Fresnel light  to counter act the shadows coming from the ceiling, and a bounce from the back window to the face of the baby, to make that baby's fuller look.
Hell of a job to nail the shot as the poor thing was not simply having it…. three hours probably? Perhaps even more.  As the light from the ceiling was changing (this was a semi-controlled environment) we had to both move the bed and remove layers of frost from the ceiling. Pretty demanding! Sometimes filming is a bit like cooking, it takes a lot to bake things up and in a matter of seconds it's all gone.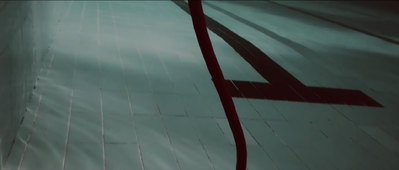 The underwater shot was achieved without using proper and dedicated hardware. I actually placed the camera in a large, rounded glass vase and put that underwater, on a local resort pool. I tried few angles to find the best light I could get once underwater, and I relied on my trusty ACER notebook for further checking…. the Marshall 7″ was not simply enough to see if I nailed the shot or not.
The shots with the red cable wiggling back and forth where mostly shot a 1/100 shutter speed. As you might be aware the rule of thumb is to shoot at 1/50 to keep the optimal shutter speed at 180 degrees… that renders out a proper motion blur, or at least what is perceive to be filmic. Now, if you were shooting a fight/combat scene or doing s sports shot then 1/100 shutter could be the way to go as you're giving movements less motion blur and more "punch". I intentionally violated the rule looking out for an effect, so it was done on purpose. Keep in mind that 1/100 of shutter speed cuts off some light as well, pretty much like an FD filter would do.. apart from motion!
Throughout the whole shooting I checked exposure via false color filer on the trusty Marshall field monitor and my Spectra Professional IV-A cine light meter. Bear in mind that if you're using NDs you have to do your math to match your light meter to the in-camera aperture. Focusing was also aided via peaking on the Marshall, the Canon FDs have such a short focus throw (not ideal!), unlike the Nikon AI, that requires all your attention. Apart from the 135mm f2.8, that has got a nicer throw and dampening.
Another little piece of advise, always buy sticks with a bowl head. It is so much easier to get a shot leveled with the bowl instead of wasting time fiddling with the stick's legs, the bubble level and an uneven ground!
Overall I shot for about a week and then t took me about a couple of weeks worth of post production. Being Rode involved in the sound business, I had to be very careful into those regards as well…. but that's the forthcoming part two of this BTS.