BEST NOTEBOOK OR LAPTOP FOR VIDEO EDITING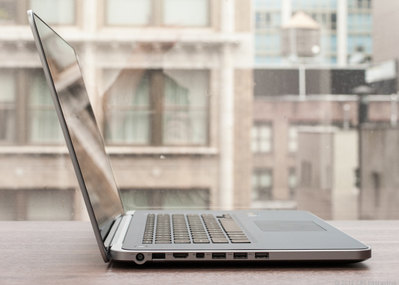 I guess that some of you guys might be in my same shoes, looking like crazy to find the right mobile solution for editing. I can just hear some of you go "hey you, Mac does it". I know that for sure, but I am a PC guy for many reasons and I want to stay in that land.
I found a solution that works beautifully, so read on to find out more.
It should be an easy task in 2013 to find the right notebook for your editing needs. It's actually not, it took me quite a long time. If you are looking for sleek design, full HD monitor, SSD drive plus a 7200rpm HDD and a powerful NVIDIA card, you will soon realize that the task is harder to nail as you might have thought at first. Price is another thing to keep in mind; if you have money to burn, well, then this website might even not interest you that much.
In one way of another, most notebooks fail to deliver. The full HD (1920*1080) screen is quite tough to get, to date very few manufacturers do that, so the choices narrow down to a handful of notebooks. Also size in another important thing, I would consider 15" the absolute minimum for video work on a full hd screen. To be honest, 17" would be better, but weight (and price) will increase considerably.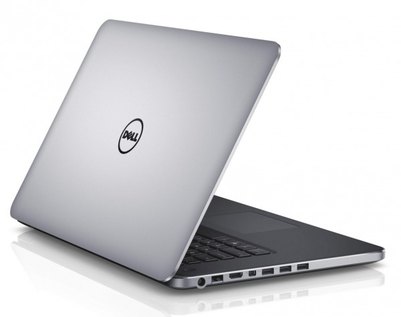 In addition, it's not all down to resolution and size. We are doing video work and we want to have truthful screen. A properly calibrated monitor would cost a fortune alone, like the HP DREAMCOLOR. Forget that kind of screen on a notebook (perhaps on a Cartier branded one) but panels do differ, and again you have to make choices here as you cannot have it all. I will be telling you more about this later on in the article.
Another hard thing these days is to find the right NVIDIA card. There are some great resources on the web that give you a good run down on how all this comes down to, and mostly you will understand that performances are not directly related to the common thinking 'the more expensive, the better'. Instead of me going into details, take a look at this website and you will see how things work out .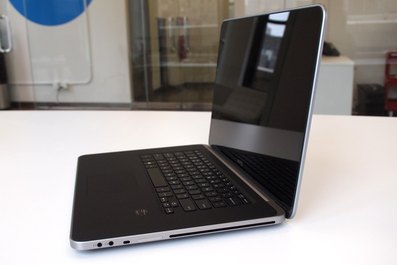 The next stage will be the hard disk. Here again it's frankly ridiculous how many laptops do have 5400rpm hard drives … and that does not suit video editing at all, you want to go for 7200 rpm. Now, SSD would be happy days here, as there are incredible benefits to edit on them. For starters you do not have to defrag, you tell me this alone is not worth it? The Dell hasn't got the most spacious SSD, but here comes the good news. Because this notebook has been laid out to work with two hdds, one of those being a memory drive, well then you can replace it. At the end of the day, this computer comes with only 32GB worth of data room, I would go for 120GB at least. Remember that you need the msata SSDs, they are smaller than usual size, Samsung is a leader on those.
The procedure is not that complicated; there are plenty of videos on YouTube detailing the necessary operations. I guess you could find a suitable laptop ticking the most boxes and replace the crappy 5400 hdd if necessary, your call… I personally believed that in 2013 you have to have a 7200rpm drive with what you are paying for.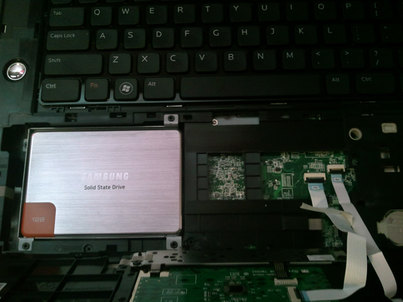 Another important thing is battery duration. I cannot say the Dell is a monster here, but it's decent. It could have been battery, thus I mostly edit when plugged in as I like to run at full blast. I use the battery to browse the internet, rite docs and emails when on the move, on that I get around 2.00h with the new battery on a balanced mode (different to full power!). In a year or so, I know it won't be the same, I know, that sucks.
The next thing would be connectivity. Sometimes it's unevaluated, but you should not… on a mobile solution. You have to rely on external hdd for storage. In media work, you might have to connect to external resources, being that external video screens, card sticks, headphones etc. and the more the merrier. The Dell here is missing a Thunderbolt port, that would have been very nice, it has 2xUSB 3.0 ports but they are not as fast. With Thunderbolt you could actually have had the option to edit on an external hard drive, I doubt the results will be fully satisfactory on USB3.0, thus some recents test do disagree with this position and claim they are even…
I mentioned before that we would aim for a quality monitor when shopping for notebook or laptops. You can always connect an external hi quality monitor, but it's nice to have the real deal packed in. This amazing website has done accurate reviews in terms of comparing different notebooks video panels, you can check the results here.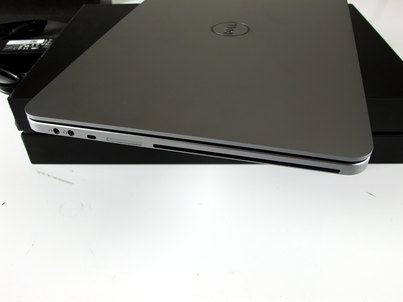 Now, I had a right deal with this Dell, and you might look into it as well. Being Dell one US established and leader IT player, they have refurbished stuff available. Mine is refurbished, and for love or money you cannot tell the difference. You cannot because there is no difference. I am not 100% sure on the path that leads to refurbished hardware, it could be RMAs or other stuff, but at the end of the day you save some cash and you have a brand new item. Just you have to take what is available, so you might opt for going to Dell's website and build your own.
For instance I had to stick to i5 CPU, and I would have loved to have i7. Thus I thought that i5 2.86 ghz was good enough to do for the most part of it, and I do not regret its performances. There is always going to be something better and faster, you just need to find a worthy balance.
I am happy with this laptop, it has a slim design and performances. You check the full rundown of its specs here. Downfalls might be not the best keyboard in the world (better that the Asus I had though, it liked to bend on normal use) and some limitations on connectivity and hardware, but 90% bearable when compared to other market offers. Not to forget the price, we are looking at a Macbook Pro clone at half the price.