IKAN VH7e 7″ LCD field monitor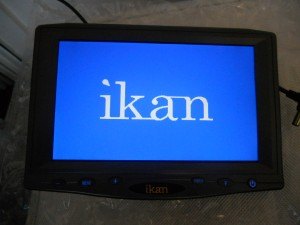 I purchased this LCD monitor as a replacement to the previous LCD I had, the Lilliput 667 GL.
I did some shooting with the 667 GL, it was cheap and for the money I paid it was pretty much worth. Resolution was OK, not too sharp but not too crap so I though I could focus with enough precision -and this is indeed a function of an external field monitor.
On the GH2 you have the opportunity to use a focus assist function, it allows you to zoom in a certain chosen area of the frame. It actually activates the EX mode function, giving you a 2x magnification of the area you've selected. Selection is dead simple, just tap on the swivel LCD and the area comes right up, you can then move around the frame and choose  the focus area at your discretion.
Shame this useful function is not passing through the HDMI output, probably it has been crippled on purpose like other major features on the GH2 to make you crave for a better camera, or a AF 100/100 if you feel you want to stick to the brand.
Well, after the shooting I realized that some footage was not perfectly in focus… once I had it in the editing room. I hate re-shooting stuff and sometimes it's not even possible, it's costly and it's crap for pretty much any one involved. No more of it – I though. Monitor needs upgrading.
Ikan has a nice reputation, nice stuff, prices are definitely more expensive than Lilliput on comparable products but their LCD line seemed better, with more functions and options.
I went for the VH7e, priced at $449 it was kind of middle of the road compared to their range. For more money I would have gone with Marshall, for less I already tried and … sold the item later.
Lindsay at Ikan was very helpful in answering my questions, I inquired further on the monitor before buying as I found the information on their website was a little poor. I was specially interested on the software features of the monitor (such as Peaking, False Color, Blue Gun) and power consumption, on field is something you have to be careful about.
After some email exchanging this is what I got in the end
Resolution: 1024 x 600
Contrast Ratio: 400:1
The monitor has Peaking, Advanced Guide Features, and Blue Gun
Peaking
it highlights  the desired focus area in a bright RED outline. The  operator adjusts the  focus control until the RED indicator outlines on the desired area are razor  sharp, indicating optimal focus. For the  best results, be sure the subject is  properly exposed.
Pixel to Pixel function
1:1 pixel mapping is a video display technique used in some devices, such as LCD monitors. A monitor that has been set to 1:1 pixel mapping will try to display an input source without scaling it, such that each pixel received is mapped to a single native pixel on the monitor.
Blue Gun
Blue gun allows you to calibrate the color bars on the monitor so you will see proper color and exposure.
Power Consumption
Typical time with 12vDC power would be around 4 hours.
Response time is 20 ms
Dot Pitch
20mm
Right now I see they have updated their website and there are more infos on their LCD line, maybe I contributed on bettering it? Possibly.
People at Ikan were nice and gave me a discount as this was a sample model to me. Yes, I work with lots of other DSLR film makers out there, I do tons of research on gear, 99% of the times it comes from abroad and once I good stuff gets found & tested I have people willing to buy from me.
However let's get into details here. First off a photo of the actual main page: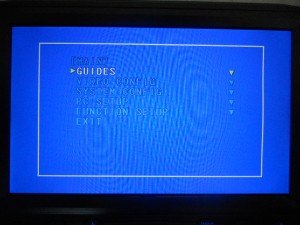 The LCD had not got direct access buttons but one "F" assignable button, I personally would have liked to access more function with the touch of a button, ie. guides. On field you do not want to struggle with menu and sub-menus but you like to get straight down to what you're after.
The "F" (function) button can be freely assigned and to me it had to be the peaking function. Well, peaking might be useful but I did not find it a hell of a feature. I would have liked more a Focus Assist function like the sone you get on the GH2 straight-out-of-the-box (as far as no HDMI cable is connected) so I could get critical focus on the area of interest. This feature is difficult to have on board, actually I am unaware of any LCD having it as of yet.
Here are some pics about the focus stage, before and after focusing. You can see how the function behaves:
You can walk away with the Pixel to Pixel as a workaround but it depends on how the monitor treats the incoming signal out of the camera.. if it works you can move around the camera framing your focus spot,  properly focus, exit the function, re-frame again and get ready for shooting.
Right now I do not recall if the Pixel to Pixel worked this way with the GH2, unfortunately I do not have the LCD any longer to verify this -sorry!
Now, what about resolution? Some photo grabs below:
Hopefully you can see what you get on the monitor compared to what your eyes see. It's not that sharp, actually the Lilliput (lower resolution) performed better. I guess this is due to the panel quality, but probably more due to the fact that when production happens in China you do not have full control on the pipeline, unless you provide full electronics design and closely follow the production stage.. but I guess this LCD is just re-branded stuff. Dot pitch is not top notch but a 7″ with that resolution should perform better. I say that in comparison with the (cheaper) Lilliput and because the successor to the Ikan has then been a 800×600 Marshall and despite the lower resolution, again, it IS sharper.
As far as power is concerned you have quite good options from Ikan, you can mount plenty of different batteries so you might be able to use one from your current or previous setup.
Battery plate (just one) comes for free. I went for the Sony BP-U, I could then use a compatible NP F970 battery, pretty chunky ones for longer run times.
Connections. Here as some pics for your consideration, they are pretty self explanatory. You get some cables from free, except the HDMI one.
I let this monitor  go and sold it and my personal recommendation is: get a Marshall, a good used one.  I got the 70XP and I love it. Lots of on board function, sturdy and not plasticky, sharp and pro-stuff for just about the same money as Ikan. Dig deep on Ebay.
It's not a fair comparison, I know, because the 70XP is a different league in terms of price tag. It's just a route I would go for. Besides if further down the road you'll find yourself upgrading, a Marshall will always sell well and you will not loose out money if bought used.
The Manhattan LCD was taken into account at the time of making the Ikan's purchase, at first glance it might seem as a direct competitor in price/features but battery plates will set you back $120 ..not even including the battery!
One last consideration is on how pricy this stuff is when related to consumer LCD/LED TV sets. For the same amount of money you might just go out and buy a 42″ LED TV. I know these are sold in different quantities and are coming from leader manufactures, still it makes me wonder a little when the product comes for China…