Adapting STEADYCAM MERLIN VEST to GLIDECAM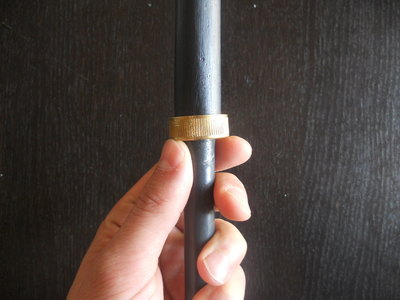 Some time ago I strongly felt I needed to learn the steadycam work. You can see it in uncountable movies and it gives a boost to your narrative, there's no way around it.
DSLR are difficult to handle when shooting, so footage tends to be pretty shaky. Even worst if you're using non-stabilized lenses.
After some thorough research over the net I found out that the steadycam Merlin would have been the optimum solution in terms of value for the money. Many were recommending it over the Glidecam 1000/2000/4000 and the vest was available as well.
I purchased the whole kit, apparently you can't walk away with the Merlin alone, after a short while your arm would hurt. That was indeed right.
Where the reviews I read were in my opinion wrong was on the actual Merlin. The vest is quite cool, there could be a little less plastic but let's not complain too much.
I spent literally ages trying to configure the Merlin. Tried tons of settings, both from the web and from continuous trial and error attempts.
I just wanted to stabilize my GH2 shots. I had success to some degree with a 17mm Canon FD wide angle. But when it came to putting on a different lens, here we go again you have to go nuts over it.
It is a lovely piece of engineering, just it isn't friendly at all. The Tiffen website does not help. Yes, there are some formulas, recipes and all that but they simplpy do not work. It can't just be me.
In the end I hated it and I had to get rid of it. How are you meant to work with stuff like this I don't possibly know. What if I was out during a shooting and realized a change in lens would be required? I must greet everybody and see them the next day. If a day would be enough.
Welcome to the new Glidecam 4000 PRO.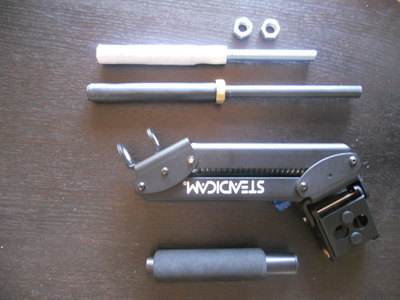 I kept the vest, it's well made and being a 2 arm design it's better value to the one offered by Glidecam. That meant I had to build an adapter, those are parts from 2 different manufacturers.. competitors actually.
I found a couple of videos about that over the web, it seemed a quick task. So I made the 1st version of the adapter. Basically you have to go from the top arm to the Glidecam handle (a standard 22mm tube) in such a way that the handle can rotate but it does not wiggle.
On one video there was a solution all about a simple threaded bar and some bolts. The bolts had to go in the handle's bottom, the tube and they will be just right straight off the box. Well it did not work for me. I could only use the bolts to tighten the threaded bar to the arm but I had to use pieces of rubber carpet to build up the diameter of my adapter. Then tape it all up to make sure it did not fall apart.
This worked not too bad, I actually shot "L' AQUILA" with it. But I felt I needed a better solution.
Steadycam work is tricky. It required loads of practice both in terms of set up and running along with it. Set up is critical and has to be done simply perfect…else you won't get super steady shots, they will tend to have an up & down movement. You might go for it if you want to better simulate a walking effect, actually I did it on purpose on "KNIFED" but if are after extra smooth, crane-like shots, well you have to get balancing right.
While balancing is easier with the Glidecam 4000 PRO and apparently even better with the latter HD version, you have to avoid any other external influence, such as a loose cable and .. the adapter not fitting perfectly.
The first version (at the top of the picture) had rubber in it and the Steadycam gets quite heavy once it's all set up, it tires your arm pretty quickly so although you're using a DSLR, the stuff is pretty heavy and main reason for that is that you have to hold it in front of you far away from your body. Weight was probably squeezing the rubber a little and it just did not fit the equation.
I though a bit on how I could improve it and right now I do believe there are more solutions than one. Or different ways I could have done it.. but hey, that is the way I did it and you are free to copy that and have something looking like this in the end.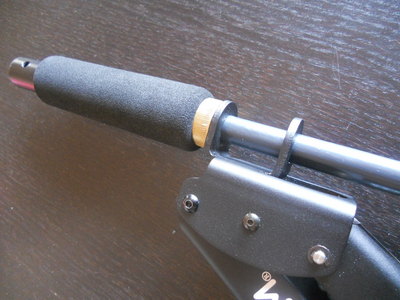 All I did was:
1- buy a 15mm aluminum rod, commonly available at D.I.Y. stores
2. trim it as desired
3. buy some boxes of ready to use fiberglass
4. buy a regular 22mm tube and do a replica of the Glidecam handle, paying attention to the top hole. Cut it in 2 halves.
5. add the hardener to the fiberglass. Beware not to put too much of it as you might not have the time to do all of the following
6. Fill the 22mm tube with fiberglass. Beforehand make sure you have put all over the inside a special product that has the very purpose of detaching the fiberglass
8. Tape the 22mm tube you previously cut in 2
7. Stick the aluminium rod in it
8. This is the most important part. Pay attention that the 15mm rod is perfectly in the middle of the 22mm tube. How? Monitor it closely as the hardener does its job
9. Leave it there for an hour at least and then take off the tape and the 22mm tube.
10. Try to stick your freshly baked adapter inside the handle. Sand it as required and even a little bit more
11. Paint it. Fiberglass tends to be quite powdery so add a couple of extra paint layers.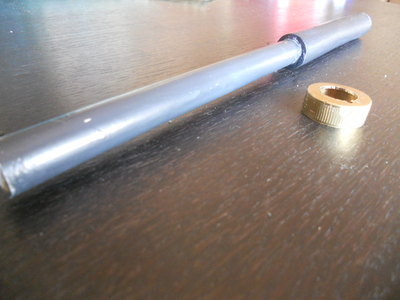 Now this is an extra step and it is not strictly necessary. I had this little brassy thing at hand, I guess you can buy it as well but I don't know what I would recommend to look for. It a sort of lid, maybe for plumbing. Anyway it has got an internal diameter of 22mm, just perfect!
I drilled a hole in it, the perfect fit for the 15mm rod and I had it go all the way to the top, upside down so it secures the Glidecam handle when in place. Basically there is more planar space for the Glidecam to rely upon once in place, because the fiberglass does not go all the way to the bottom.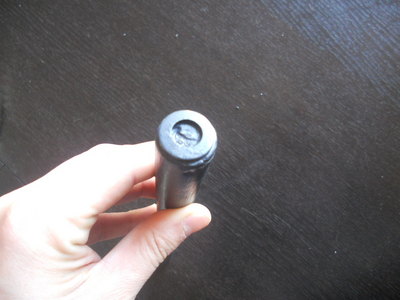 On the top of the adapter I glued some metal ring. The top bit it's rather important because it's doing a major role in holding the whole weight and it is set right again the main handle screw. I though that over time it could cut a little into the adapter so a metal ring or something similar would have performed better.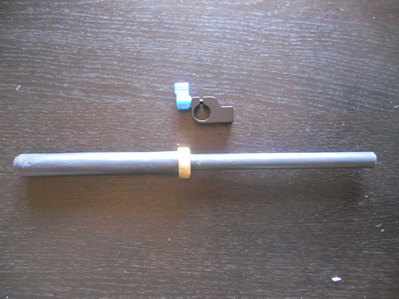 I bought some 15mm clamps with 3/4″ threads off Amazon. I intend to use them on the 15mm rod and try to attach my Marshall monitor for a more proficient steadycam work. As I write this is in progress so I do not know the outcome yet!!