Monthly Archives:
March 2012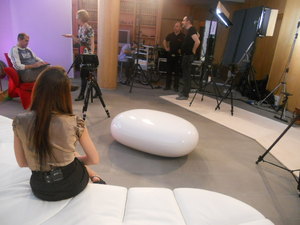 Working for TV it isn't an easy task as It might seem at first sight if you are used to work in the movies industries, it simply won't be like taking a remote and clicking on the power button.
As usual it requires hard work to make things look neat and polished.
Compared to filming there is a clear advantage though: once you have set up your lighting equipment and your cameras you are good to go for a long time. In filming you have to move lighting around as the scene changes so it's kind of an ever changing situation.
I decided to write this post because I own a set of LOMOS and because the information about these wonderful lenses is scattered all over the web and not easy to find.
Russian glass is really too big of a topic to put in a single post but the crux of the matter is that you can buy a set of 4 standard LOMOS lenses for USD 1500. Special LOMOS would be at around 4 fold.
What if a country had the resources like the USSR did, so they could have access to the best chemicals available and of the highest grade to forge cinema lenses. It's not quite what a privately owned company could possibly do.